Despite the cryptocurrency market's ongoing bearish trend, the Chiliz (CHZ) coin has extended its winning streak and gained additional bids above the $0.2287 mark. Chiliz has once again demonstrated that it is one of the most volatile assets on the market. The CHZ price has performed admirably over the last few weeks. However, the fundamental value of the cryptocurrency used by sports fans to interact with their favorite teams via blockchain technology could be attributed to its upward rally.
Alexandre Dreyfus, the creator of Chiliz, announced that the company would stop using the Ethereum blockchain to launch its fungible and nonfungible tokens and instead use its native chain, CHZ 2.0. As a result, the announcement helped rally the Chiliz network. La Picque, who previously founded the Geneva-based blockchain consultancy Encrypted, joins Chiliz from the blockchain platform Covantis. Unfortunately, this news has yet to have a significant impact. In contrast, the ongoing crypto market sell-off and a strong US dollar were key factors limiting any further gains in Chiliz coin prices.
Your capital is at risk
Chiliz (CHZ) Price & Tokenomics
The current price of Chiliz is $0.229, with a 24-hour trading volume of $974 million. Chiliz has dropped by 1.03% in the last 24 hours. CoinMarketCap currently ranks #37, with a live market cap of $1.3 billion. There are 6,000,386,953 CHZ coins in circulation, with a maximum supply of 8,888,888,888 CHZ coins.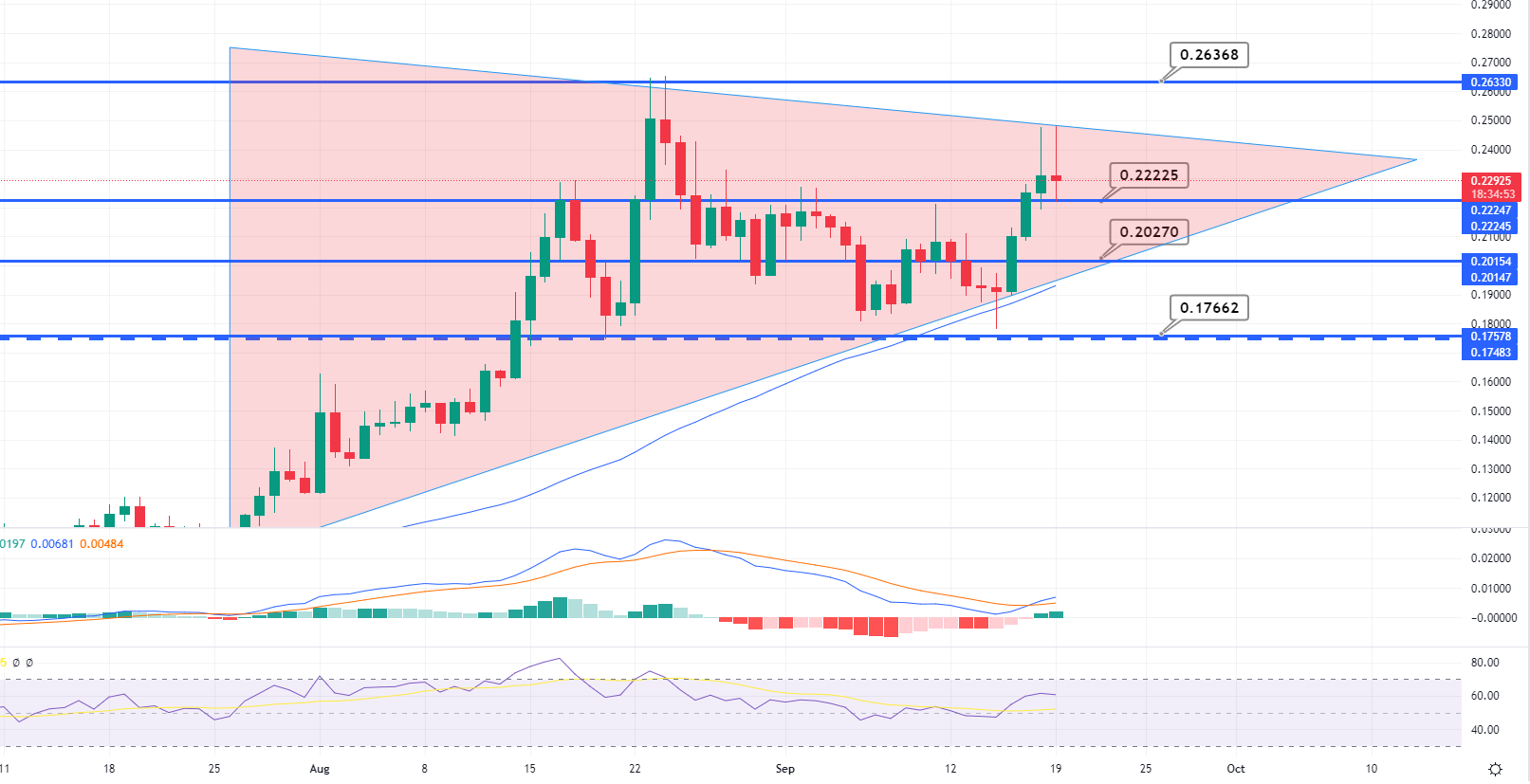 Trading activity for CHZ has increased significantly, which is consistent with the token's rapid price rise. According to market data, the growth was instinctual, and our observations showed no token speculation. Despite the current market crash, Chiliz has proven to be one of the market's most independently moving assets, with the token's value increasing by more than 13% in the last seven days. Chiliz projects have historically been viewed as experiencing rapid growth due to several significant agreements and upcoming major athletic events.
Upgrading to CHZ 2.0 Underpins Chiliz
Some innovative announcements also aided the Chiliz coin price gains. Chiliz founder Alexandre Dreyfus stated that Chiliz would stop using the Ethereum blockchain to launch its fungible and nonfungible coins and would instead switch to its native chain, CHZ 2.0. According to Dreyfus, we don't have to indefinitely rely on ERC20 or ERC721 equivalents. Instead, he said, "We believe we can develop on top of fungible token forms." We collaborate with over 100 of the world's largest companies, making it easier to launch and scale.
Ever since the day announcement was made, CHZ experienced a sharp uptrend and a significant increase in trading activity. However, the action demonstrated traders' technical confidence in the CHZ 2.0 announcement.
The price surge for CHZ also came with an increase in whale activity. There were 105 CHZ transactions with a value greater than $100,000, which is the most since March 29. The simultaneous increase in CHZ's whale activity, volume, and price indicate that most wealthy investors have been purchasing the token since CHZ 2.0. Thus, all these positive factors have contributed significantly to the increasing value of Chiliz.
Sell-Off In The Crypto Sector
The cryptocurrency market has been in a bearish trend and has remained so throughout the day. The cryptocurrency market is currently under pressure globally. This was observed after Bitcoin prices fell by 6.07% during the day and were valued at $18,819.2. Bitcoin was worth $19,227.70 yesterday. Meanwhile, drops have been observed in other significant cryptocurrencies. Ethereum was trading at $1,306.32, down 10.15% in 24 hours and 24.25% in the last seven days.
The pressure on the cryptocurrency market results from the more widespread selling in traditional markets as investors withdraw their money from high-risk investments to protect themselves from market volatility. The strong US dollar and the ongoing crypto market sell-off were two significant factors preventing further gains in Chiliz coin prices.
Related
Tamadoge – Play to Earn Meme Coin
Earn TAMA in Battles With Doge Pets
Capped Supply of 2 Bn, Token Burn
Presale Raised $19 Million in Two Months
Upcoming ICO on LBank, Uniswap