Ethereum prepares to rally again but the bulls might actually aim for a higher price of $1800 after correcting a few points from the $1633 level against the US dollar so let's read more today in our latest Ethereum news.
Ethereum started a consolidation phase below the $1600 resistance zone and the price is trading near $1500 and the 100 hourly simple moving average. There's a major bullish trend line that is slowly forming near the support zone of $1480 on the hourly charts of the pair which could continue increasing if there is a clear move near the $1600 zone. Ethereum prepares to rally again above the $1500 levels and managed to clear the $1550 resistance to moving into a positive zone even further. The price rallied above $1600 and settled above the 100 hourly simple moving average. It has already traded at $1633 before a downside correction and there was a move below the $1550 support zone.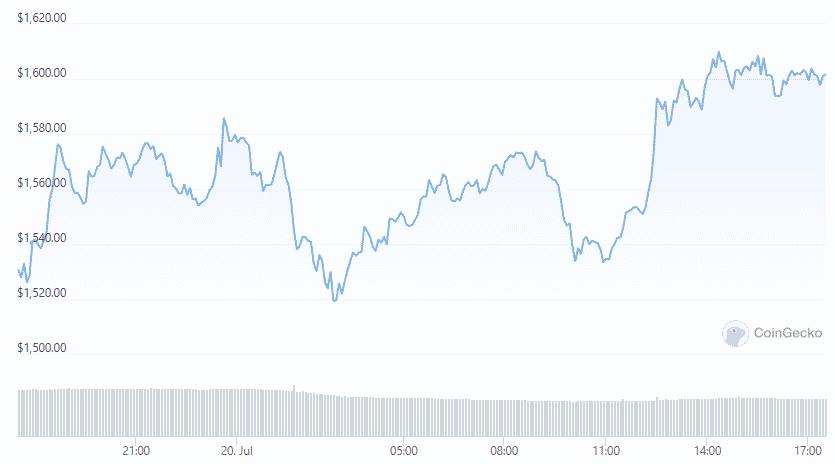 The price dropped below the 23.6% level from the upward move of $1325 swing ow to the $1633 high but the bulls were also quite active near the $1500 support zone. Besides, there's also a major bullish trend line forming near the $1480 zone on the hourly charts of the ETH/USD pair. The trend line is close to the 50% fib retracement level of the move near $1325 low to $1633 high with an immediate resistnace on the upside being near $1600.
The first major resistance is close to the $1530 zone with another move higher being able to start another major increase. The next key barrier is close to the $1700 level above which the price can gain strength and increase towards the $1800 resistance. If ETH fails to rise above this level it could start a downside correction with initial support on the downside being near the $1520 zone. The next major support can be found at $1480 and its trend line with more losses might even push the price below $1450 support. The price in this case can even drop to the $1400 level and the hourly MACD for the pair is gaining momentum in the bullish zone. The RSI is above the 50 levels.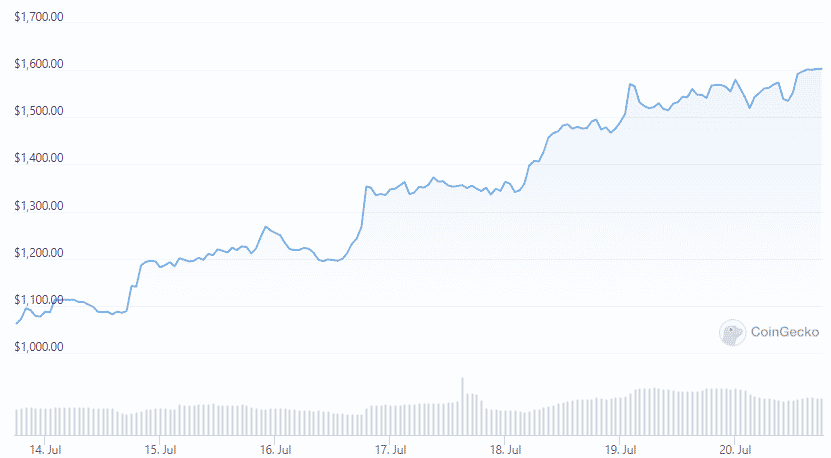 After a few months of gradual declines, the number of ETH wallets between 1000 and 100,000 ETH increased to a new peak. At the same time, smaller ETH addresses also increased due to staking for the upcoming merge. The data provided by Santiment shows that the whales holding between 1K and 100K ETH saw a sharp increase in the past few weeks after crashing in May which halted the negative streak.