It is no surprise that the crypto universe and its various affiliated virtual digital assets have taken the world by storm, even in the middle of crypto winter, investors and traders alike are looking for new ventures to invest in.
Fan tokens happen to be just that sort of innovative venture that one might be looking to invest in, and this might indeed prove to be an interesting option, in light of the rising interest in it.
With the surging curiosity in fan tokens, most crypto watchers are looking to investigate more into the viability of these digital assets or commodities as a long-term investment. There is certainly a lot of potential to these fan tokens, especially with the growing commercialisation of sports-related activities.
Buy Fan Tokens via Binance Now
Your capital is at risk.
What Are Fan Tokens?
For all those wondering, fan tokens are digital commodities that allow you and other fascinated fans to access never-seen-before media, information and opportunities related to their favorite sport.
This allows fans to be more connected to their special teams, leagues or even fantasy sports clubs. The benefits do not end here, these fan tokens also grant users the opportunity to win great financial advantages that will boost their portfolios even further. One fundamental distinction of such fan tokens is that though they are classified as a type of virtual assets, they employ the use of blockchain, from an external source.
These fan tokens are also distinct from Non-Fungible Tokens, which are more commonly referred to as, NFTs, as they can very well be transposable, which essentially means that much like paper money, these assets can be bartered for privileges within the sports community, like experiencing various fun-filled events and access to sports merch.
The basic way these fan tokens operate is by allowing the users to vote on big decisions related to the sports leagues, making them feel as if they are a part of the internal machinery of the team.
Also, these fan tokens come in handy to strengthen the fan base of such sports leagues, and help members connect with each other, thereby increasing their brand value.
It is interesting to note that many fan clubs related to the English Premier League have recently debuted their different fan tokens, skyrocketing their fanbase even further, while also taking virtual assets to pinnacle heights. And now, recently, Messi becoming the brand ambassador of the trading platform Socios, the value and popularity of fan tokens is sure to surge like never before.
Fan Tokens That May Be Worth Your While
1. Paris Saint-Germain Fan Token (PSG)
It is no secret that the PSG team has one of the most dedicated fan clubs in the world, with an impressive brand volume. The PSG team which boasts of players such as Lionel Mess and Kyle Mbappe, allows fan token possessors to make real-time decisions about the workings of the team, through their purchases.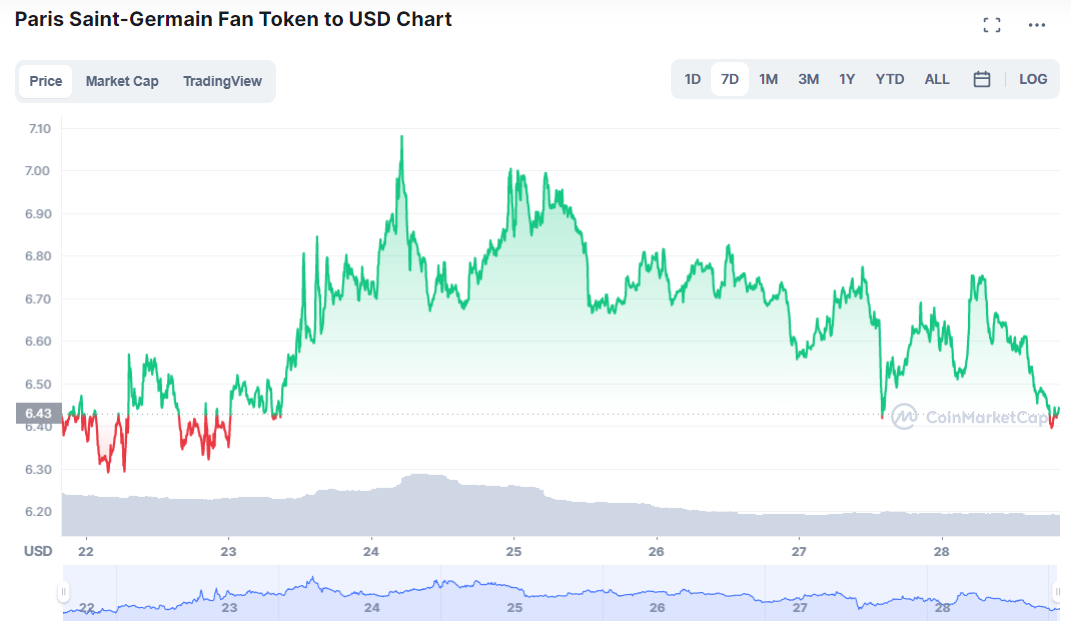 This PSG fan token is unique as it is not tied to any particular crypto asset, but rather its value is determined by fan interest. It is also associated with the Socios platform and is backed by the blockchain space of Chiliz.
Currently, the PSG fan token boasts of a market cap of close to $21 million dollars, and a one-day trading volume of close to $2.2 million, making monumental gains each day, cementing it as a coveted hold at $6.52, for most interested parties.
Your capital is at risk.
2. Manchester City Fan Token (CITY)
These tokens give the holder an opportunity to hold them in perpetuity and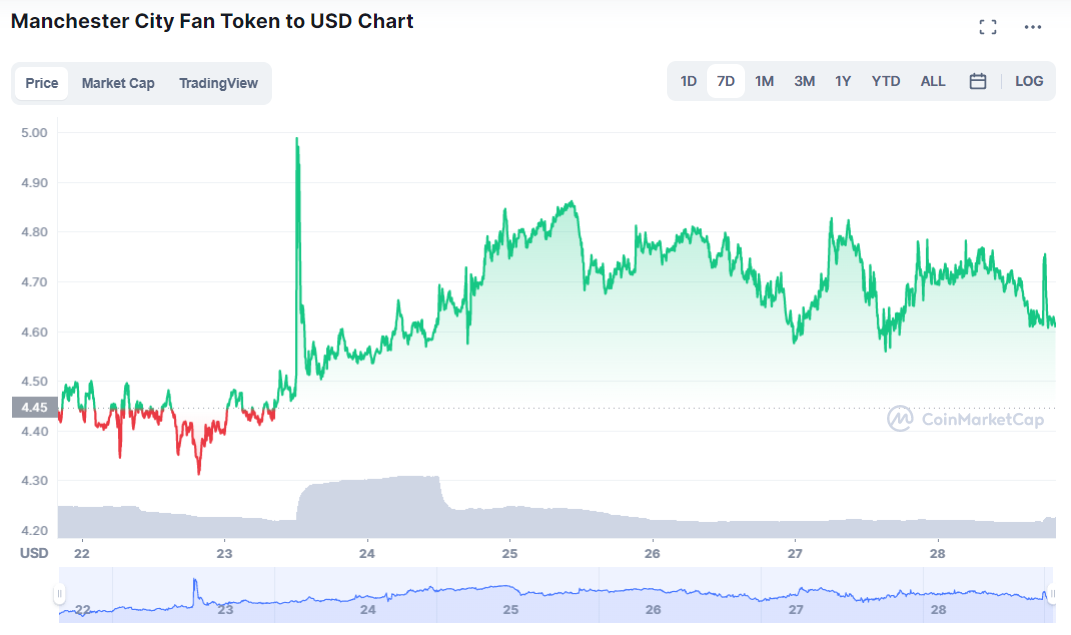 Some advantages include- voting rights which permit the users to make important decisions for the team, in areas that span merch and jersey designs to marketing deals. What is even more interesting is that votes are garnered and measured through polls, and all decisions made by fans will be adhered to.
The Manchester City Token is listed at $4.64, with a large market cap of close to $19 million, closing in on a 24 hour trading volume of about $2 million.
Buy Manchester City Fan Token Now
Your capital is at risk.
3. FC Barcelona Fan Token (BAR)
FC Barcelona is one of the most successful sporting ventures, with a fan base spanning various continents. With hundreds of accolades under its belt, FC Barcelona remains a safe bet and a guaranteed hit.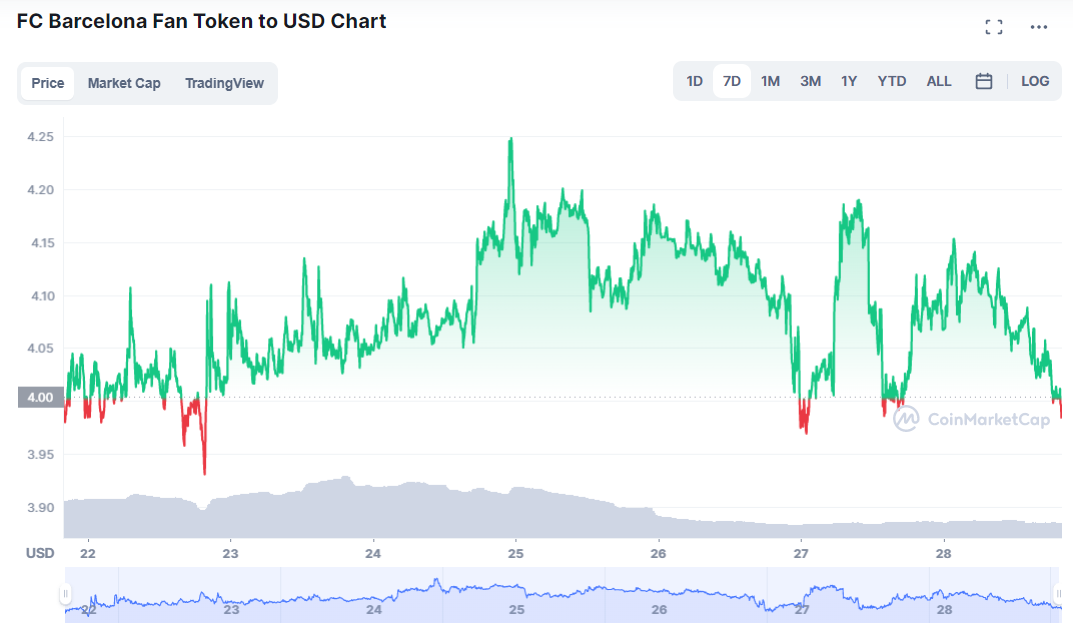 The BAR token is a once-in-a-lifetime opportunity for all its stakeholders to really vet the inner workings of the team and gain the experience of feeling like important, integral members of the team. The holders are granted access to information of squad lineups, arena venues, design and uniform decisions and first priority passes.
The token which was launched on the Socios trading platform is also backed by the Chiliz blockchain space and is now trading at a price of $4.03, with an impressive market cap of close to $12 million dollars, closing a 24-hour trading volume of around $1.7 million dollars.
Your capital is at risk.
4. Santos FC Fan Token (SANTOS)
This fan token is based on the Brazilian-origin Santos Football Club, and has been launched with the intention to make the decision-making process more interactive with and accessible to the fans.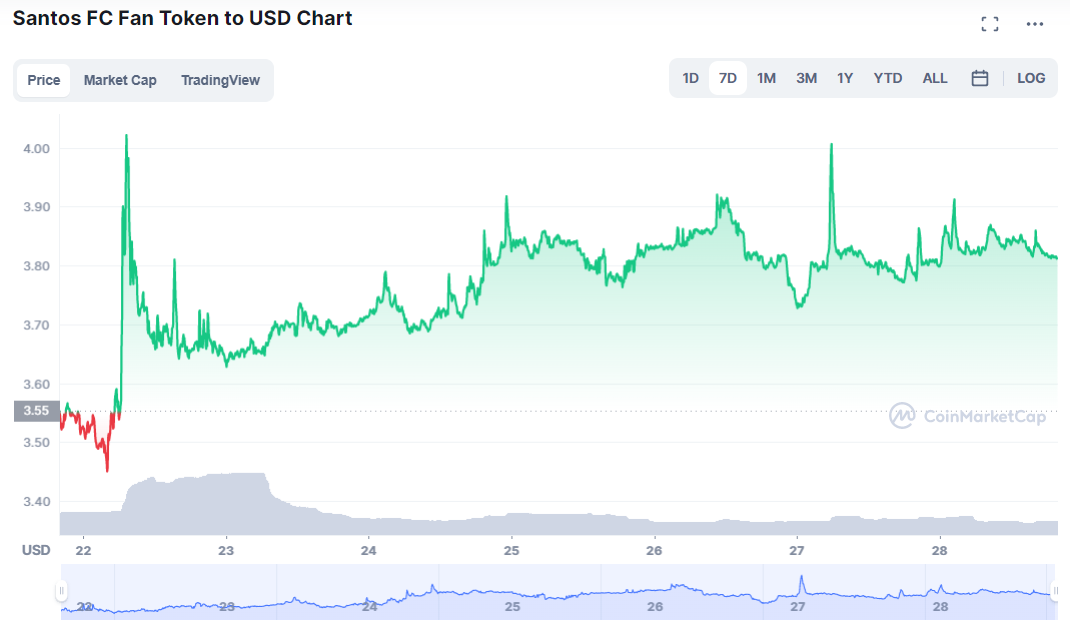 Some of the many benefits to the holders of the Santos include- personal interactions with team members, interactive fitness sessions, first priority venue passes, badges that signify their dedication as fans and top-class merchandise.
Santos boasts of a high market cap nearing $14.5 million, with a 24-hour trading volume of over $4 million; it is currently listed at a price of close to $4.
Your capital is at risk.
Where To Get Your Favourite Fan Tokens?
There are various trading platforms that have listed fan tokens as a part of their services.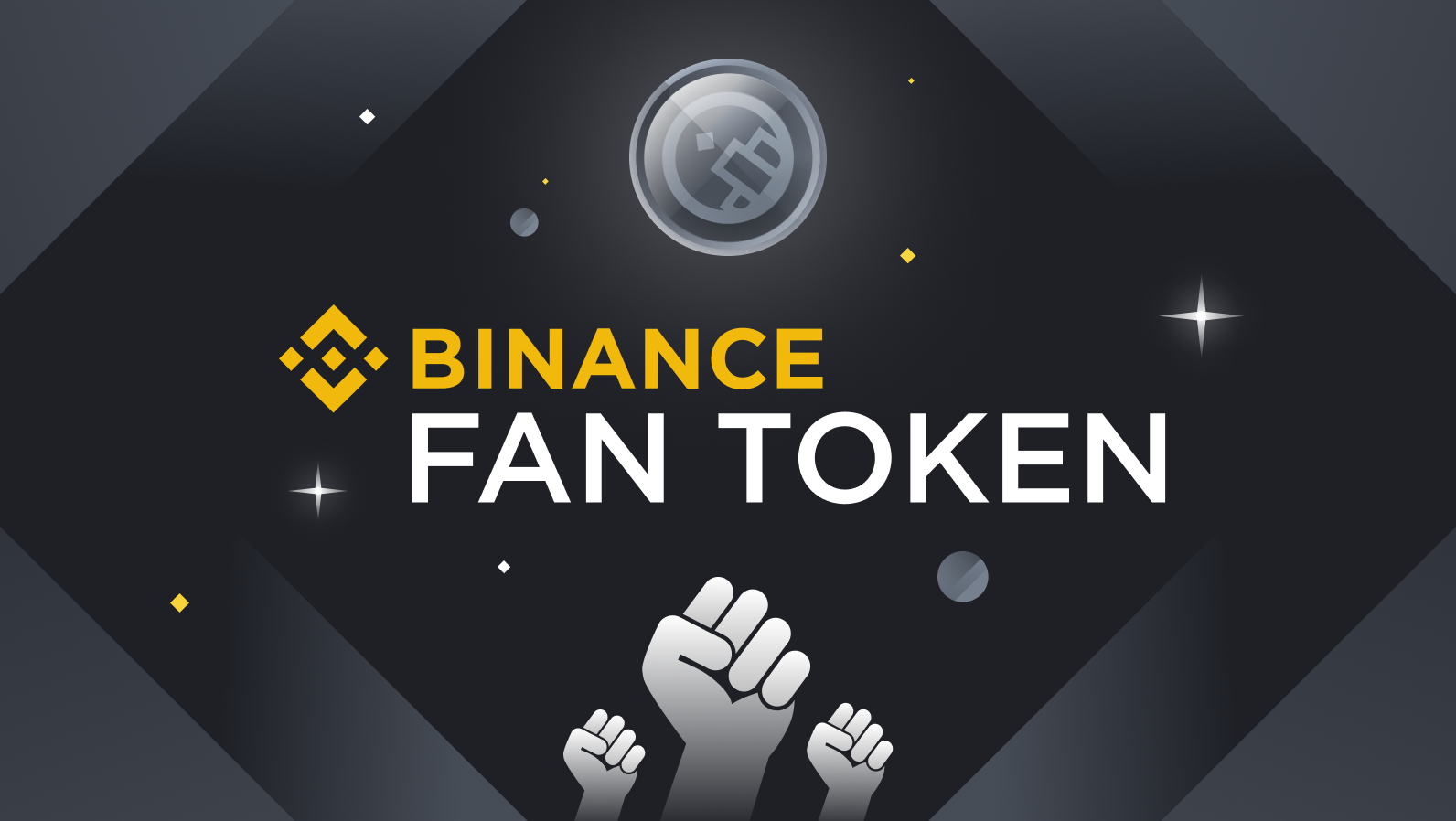 Fan Tokens are available on the Binance Platform
Platforms such as Socios, Binance, Coinbase, FTX, eToro, and Crypto.com are one of many websites that allow interested investors and traders to purchase their select fan tokens and be allowed exquisite access to the world of sports and its many privileges.
Such platforms, which are already reputed for their remarkable and expansive range of digital assets and the various members of the crypto family, have once again shown their diversity by immediately listing fan tokens for trade.
Buy Fan Tokens via Binance Platform Now
Your capital is at risk.
All in all, fan tokens seem like a great investment to sports fanatics and the general public alike, who would like a glimpse into the glamorous workings of their favourite teams.
Read More:
Lucky Block – Our Recommended Crypto of 2022
New Crypto Games Platform
Featured in Forbes, Nasdaq.com, Yahoo Finance
LBLOCK Token Up 1000%+ From Presale
Listed on Pancakeswap, LBank
Free Tickets to Jackpot Prize Draws for Holders
Passive Income Rewards – Play to Earn Utility
10,000 NFTs Minted in 2022 – Now on NFTLaunchpad.com
$1 Million NFT Jackpot in May 2022
Worldwide Decentralized Competitions
Cryptoassets are a highly volatile unregulated investment product. No UK or EU investor protection.